Salmon season is in full swing at Island Point Lodge, and during our busy season, you'll be given the opportunity to take the challenge in reeling in the massive King Salmon you've been waiting for! When you go to any given restaurant that serves salmon, most people ask where the salmon is from, and when the answer is Alaska, everyone radiates a smile. Foodies love to hear that their salmon is from Alaska, and for a good reason! Our Petersburg Alaska fishing lodge is located near a King Salmon Hatchery, where Chinooks size can range anywhere from 15-40 pounds, which is the top reason anglers dream of an Alaska fishing adventure.
Tips and Tricks
With Alaska King Salmon season being well underway at Island Point Lodge, and these hungry Chinooks are ready to give you a run for your money while in Alaska fishing! When baiting for that King Salmon, you'll want to focus on the colors, bait selection as well as the gear you choose as they all will cohesively work together to wrestle with that monster catch! Slow and steady wins the race, you'll first need to grab the attention of that King Salmon, and moving too quickly may set you up to fail. When fly fishing in shallow waters, wait for the tide to go out, and move slowly to grasp the salmon's attention setting you up for a successful day out during your Alaska fishing trip.
Alaska Fly Fishing Lodges
Fly fishing is something that every angler should try at one time or another as it will be an experience unparalleled to any other. While fly fishing Blind River Rapids Trailhead, you'll be engulfed in the serene wilderness, surrounded by the Alaskan wildlife, and be able to take in an authentic Alaska fishing experience. Dressing comfortably while fly fishing is an absolute must, wear chest waders, and bringing raingear is essential when fly fishing.
Limits on Salmon
Starting June 1 and running through the end of July, a sizeable limit for Kings has been set, which does not need to be recorded on your three salmons for the year on your license. You'll be able to catch four Kings per day over 28 inches and two being under 28. Many areas in Alaska are closed down for the salmon season; however, we're located near a King Salmon Hatchery leaving plenty of areas to fish which makes us one of the best fishing lodges in Alaska.
Best Fishing Lodges in Alaska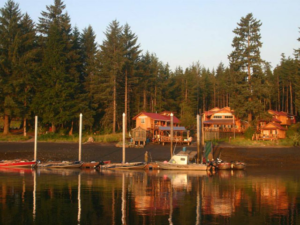 What sets Island Point Lodge apart from any other Alaska fishing resort, is that we allow the true angler to fish with no guide necessary. Whether you'd like to catch at the break of dawn during salmon season, or would like to take breaks throughout the afternoon— the day is yours! Our affordable rates for a seven-day trip will give you more time to spend in Alaska fishing. During your stay, you'll be provided with daily meals, and we will even filet your salmon for you! To inquire about a self-guided fishing adventure, our friendly staff is ready to help with the planning. Give us a call at 1-800-352-4522!